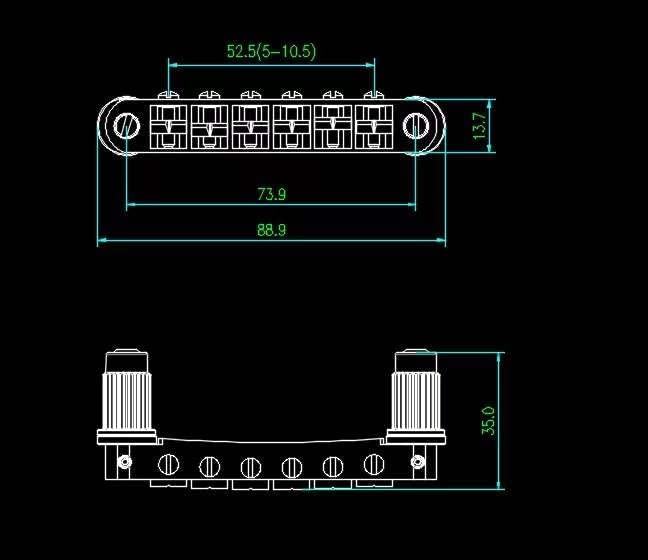 Guyker Guitar Tune-O-Matic Bridge and Stop Bar Tailpiece Combo Replacement Compatible with LP SG EPI 6 String Electric Guitar(GS001 + GM005, bronze)
颜色:
Chameleon Rainbow (Bridge + Tailpiece)
ABOUT PRODUCT
DESCRIPTION
ADDITIONAL INFOMATION
Benefits:
- Reduced string breakage - increased tuning stability.
- Ideal replacement bridge compatible with LP style, EPI or any 6 strings guitar that has Tune-O-Matic setup.
- Lightweight, high strength zinc alloy bridge and tailpieces that boosts harmonic content.
Features:
- Replacement/upgrade bridge with posts for Tune-o-Matic 6 stringed instruments.
- Easy to install and convenient to use.
- Made of high-grade zinc alloy material, durable and sturdy.
- Low-friction zinc alloy saddles let the strings move freely and return to the accurate pitch.
- 5 Colors available: Bronze, chrome, black, rust color, gold.
Dimensions:
- Bridge Size: 88.9 x 13.7mm / 3.5 x 0.54 in
- String Spacing: 10.5mm / 0.41 in
- Bridge Post Spacing: 73.9mm / 2.91 in
- Tailpiece Studs Spacing: Approx. 81.9 mm / 3.23 in.
- Whole tailpiece length: Approx. 101 mm / 3.98 in.
- Tailpiece String spacing: Approx. 10.5 mm / 0.41 in.
Note:
Please check the parameter drawing in the attached pics before placing your order.
Follow
Be Among the Thousands of Satisfied Customers
Add a photo with the hashtag #guyker_guitar